WHY REFINISH?
Homeowners choose refinishing because it is more affordable and convenient than replacing cabinets. At Ray of Light, Tempe and Phoenix cabinet refinishing is our specialty.
Choose cabinet refinishing when you:
Want the upgraded look and design of replacing

Want to avoid the extra expense and waste of replacing

Are happy with the layout and storage of your cabinets

Prefer the time savings of refinishing
Most Ray of Light refinishing work takes an average of ten days to complete, meaning less disruption and faster results. In fact, only three of these working days take place in your home; the other seven happen in our workshop.
WHY CHOOSE RAY OF LIGHT?
Simply put, refinishing cabinets is our passion. We use only the highest quality oil ­based stains, lacquers and professional refinishing techniques. Our craftsmanship is of an artisanal quality based on years of artistic training and experience. We take pride in our work and treat your home as if it were our own. Visit our client reviews on Houzz for recent projects and testimonials.
When working with Ray of Light's Phoenix cabinet refinishing craftsmen, you can count on the utmost professionalism and respect towards you and your home.
We know how important it is for you to understand what your project will include from start to finish. See What to Expect for a complete listing of steps.
FURNITURE FINISH DIFFERENCE
What separates Ray of Light in Phoenix from our competitors is our artistic focus and consistent furniture ­quality finish.
In an average or poor finishing job, you may see brush strokes, an uneven coating, a milky color, or in time, a yellowed look.
At Ray of Light, all our finishes are sprayed on, so you'll never see brush strokes and your surfaces will have a completely even finish and a rich, furniture quality.
Visit our Quality Materials page to learn more about our finishes.
Our Signature Custom Refinishes
Scroll left and right to see our signature custom finishes
BEFORE & AFTER
WHAT TO EXPECT
Our jobs from start to finish:
We will take all of your drawer fronts and doors off, marking them accordingly, and then take them to our shop to strip, sand and stain. Any imperfections in the doors/drawer fronts will be taken care of at the shop.

When we stain the drawer front/door, we ask you to come to our shop to make sure we have the color just right, prior to spraying the final coat of lacquer. Should we need to make an adjustment, it can be done while you wait. Once a decision is made, we will then finish the balance of the doors/drawer fronts at our shop.

After we have completed the drawer front/door staining, we will then schedule a time to come back in to your home so that we can prep the area for completing the cabinet bases. This will probably take a full day as we are extremely careful to mask and tape/cover everything that will not be getting stained. We effectively make a bubble around the entire work area. (You will plan on eating out from this point until we finish the job.)

We will come back to your home; lightly strip and sand the areas that will be sprayed.

Finally, we will come back and install your doors/drawer fronts.

Collect final payment. Happy Customer!
The entire process, depending on the size of the job takes approximately 12-15 business days.
WHAT ARE MY OPTIONS
Our stains and lacquers come in a wide variety of colors, so you're sure to find something you like. In fact, we always custom mix colors and acquire approval before proceeding.

If you've used and enjoyed a water­based paint color in your home, the cabinet refinishing Phoenix experts at Ray of Light can create a lacquer from the same color.

No paint? No problem. Show us your favorite swatch of fabric or a family heirloom and we'll color match it. We also create custom stains. Read more at Stains and Lacquers.

We can replace your cabinet door and drawer fronts to create a new makeover."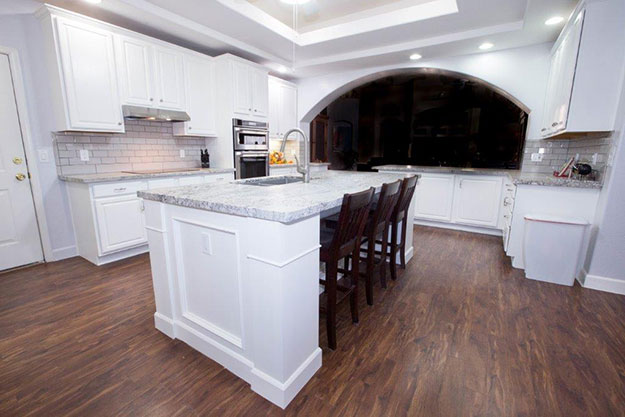 OIL BASED STAINS
We use only top ­quality oil­ based stains on your home's interior wood surfaces. Choose from classic finishes like cherry, mahogany, espresso, walnut, and more.
Why Oil ­Based Stains?
When enhancing your home's interior, we prefer to use only oil­based stains. Here are a few reasons why.
Oil­based stains:
Are more durable

Create a more even finish

Penetrate wood surfaces better

Give greater color depth and richness. Our craftsmen use a brand of stain that is widely respected in the finishing industry for its quality and durability

We know how important it is to have a consistent finish, so we use only products that will stand up to your need for excellence.
Our Process
All Ray of Light stains are mixed into a sealant for long­lasting durability. Our craftsmen then spray­apply stains to create a top quality, furniture­grade finish. Stains are always sprayed on, never brushed.
If you don't see a color you like, we can custom mix stains to meet your specific design needs. Contact us today to schedule a consultation.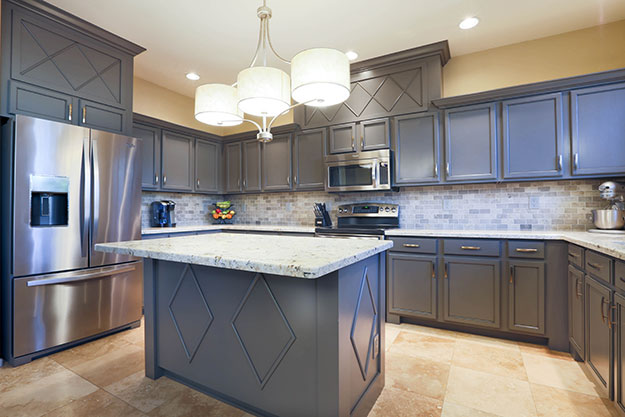 LACQUERS
Custom Lacquered Cabinets
Images of a few different color lacquered cabinet doors from ROL's showroom pieces, and any pics of lacquered cabinets in client kitchens.
Style and Versatility
Lacquers are a stylish choice when you want to make a dramatic design change without the costs and inconvenience of cabinet replacement. Give your cabinets a complete refinishing color transformation and a fresh, new look with our wide selection of opaque color lacquers.
Color Choices
Popular finishes include country kitchen whites, rustic farmhouse teals, rich ebony blacks, and many more.
We match colors from all major home paint collections including BEHR, Dunn­Edwards, Martha Stewart, and others. Show us a fabric swatch, a piece of artwork, or a beloved family heirloom, and we'll match your cabinets to the shade.
Call now to receive your Phoenix cabinet refinishing.
Premium Finishes
We spray on all lacquers layer by layer for a furniture ­quality finish. You will never see brush strokes or uneven color unless it is part of the style.
Types of Sheens
Pick a sheen that's right for your look. Available sheens include:
Piano (high gloss)

Gloss

Semi­gloss

Satin

Low satin

Flat Glazing Effects Add depth, texture, and dimension with a glaze top coat. Choose from these and other glaze effects to get the perfect finish: