As a specially trained fine artist, Ray Hernandez offers a selection of elegant designer accents to choose from. From furniture finishing to fine art, we invite you to add any of the below listed designer accents to your home.
Furniture Finishing
Keep your wood furniture looking like new with our convenient furniture restoration services.
We restore family heirlooms, custom cabinetry, bathroom vanities, and other speciality furniture to give it the extra loving care it needs.
Perhaps your home has a piece of furniture that with refinishing, will become the centerpiece it truly should be. Preserve the beauty of your most cherished pieces by asking about our furniture refinishing services today.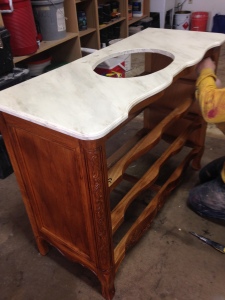 Door Finishing
New door finishes give a home's interior a fresh new look. You'll enjoy the style and character the finish adds to your home, whether you're renewing an existing finish or updating your door surfaces completely.
Ray of Light applies the same high­quality process to door refinishing that we use for all of our wood projects. So when refinishing your home's doors, you can expect the same artisanal craftsmanship we're known for.
Learn more about our furniture finishing process.
Our trim carpenters supply hand crafted accents to transform ordinary cabinetry into furniture style pieces and custom architectural elements.  They utilize crown moulding, corbels, bead board, mill posts and specialty milled pieces to make unique features, giving the appearance of an entire renovation.