As a specially trained fine artist, Ray Hernandez offers a selection of elegant designer accents to choose from. From furniture finishing to fine art, we invite you to add any of the below listed designer accents to your home.
Filigrees and Trompe L'oleil
Embellish your home's architectural features with artisanal hand­painted filigrees and  Trompe L'oeil artwork.
Filigrees
Decorative filigrees make eye­catching additions to any home's entryways, ceilings, niches, and fireplaces. Hand painted chandelier medallions add artistic flair and unify a room's architectural elements and decor.
Trompe L'oeil
Opt for a more dramatic enhancement with a Trompe L'oeil piece, which fools the eye into seeing a three­dimensional figure where there is none. Trompe L'oeil paintings popularly are placed above chandeliers and on high ceilings to create a realistic architectural effect.
Master Craftsman Ray Hernandez paints most filigree and Trompe L'oeil artwork completely freehand. Ray's background in fine art enables him to use texture, shadow, and line to create a visually elegant and artistically impressive result.
Learn more about Ray's fine art training on our Founder's page.
Murals
For your home's more creative spaces, Ray of Light offers custom mural design services.
Summon the wistful beauty of a foreign time or place with an Old World themed mural. Personalize a kitchen, office, bathroom, or bedroom with an artwork emblematic of your family's style and history. Use mural artwork to create a space that is entirely your own.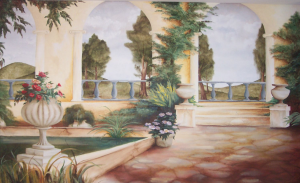 Not sure what mural style would look best in your home? Schedule an artistic consultation today.
Fine Art on Canvas
Master Craftsman Ray Hernandez is a talented fine artist who enjoys painting with oil on canvas.
Inspired by the Italian Renaissance period, Ray's artwork reflects a time when painters reached new levels of mastery. Among his inspirations are Mexican muralist Diego Rivera, and as a whole, the Italian artists of the Renaissance era.
Oil on canvas paintings by Ray Hernandez are available for commission. Ray looks forward to creating an art piece exclusively for you and your home.